2 in 1 DPOX180H Handheld Digital Phosphor Oscilloscope 2 CH Signal Generator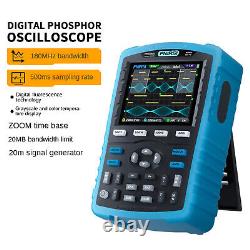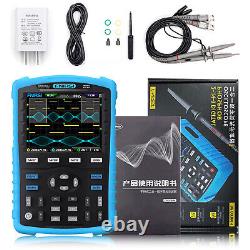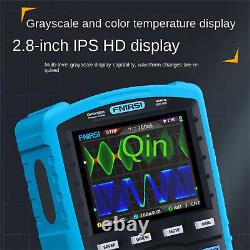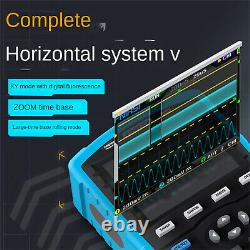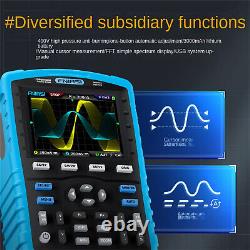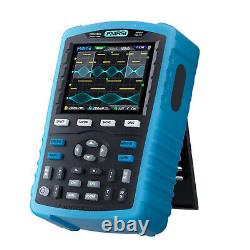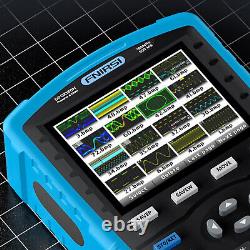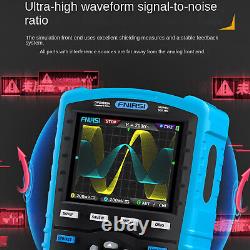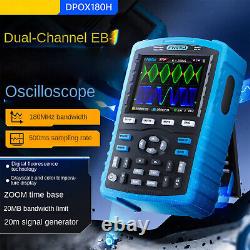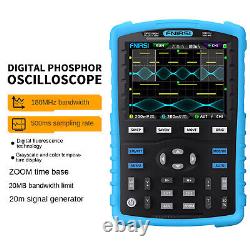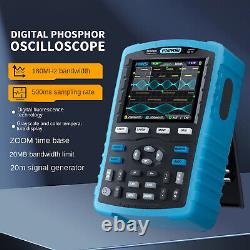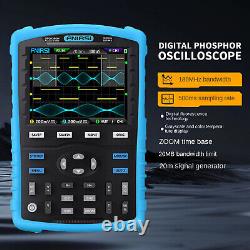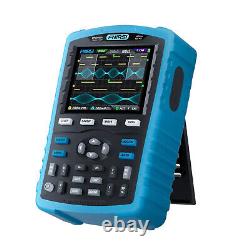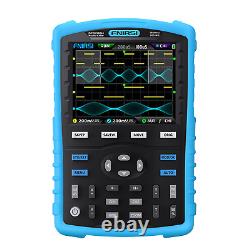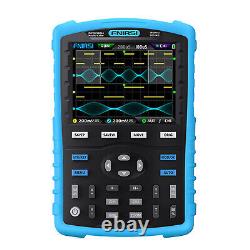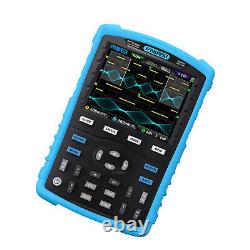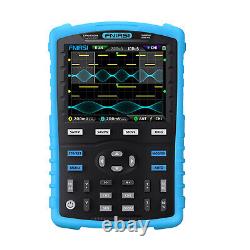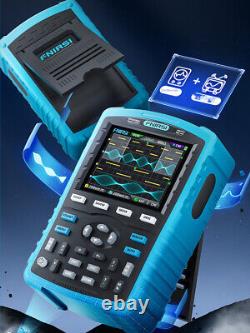 FNIRSI DPOX180H Handheld Phosphor Digital Oscilloscope 180MHz -3DB 50000wfms/s Dual Channel 20Mhz Signal Generator ZOOM XY FFT Handheld 2in1 dual channel digital fluorescence oscilloscope signal generator. As an oscilloscope, it has 180MHz-3DB analog bandwidth and 500MSPS real-time sampling rate. Built-in 20MHz DDS function signal generator with 14 kinds of standard function signals, output amplitude fixed at 1VPP, sinewave frequency up to 20MHz, other waveform frequency up to 10MHz. Built-in 120Mbit storage space, up to 250 sets of waveforms and 90 screenshots can be stored, you can view full-screen imagings and secondary analysis of the stored waveform data. Connect to computers via USB cable, you can directly view or copy the saved BMP imaging file inside the oscilloscope. 2in1 Design with Reliable Quality? Handheld 2in1 dual channel digital fluorescence oscilloscope signal generator. 2.8-inch IPS display with clear definition, color temperature display and multi-level grayscale display capability; waveform changes can be clearly seen in one minute. Better capture the signal so that there is nowhere for abnormal waveforms to hide.
With complete trigger function, automatic, single, regular three trigger modes; rising-edge trigger mode, falling-edge trigger mode. Adapts high-frequency, low-frequency, and high-noise signals for clean, stable waveforms. Large Time Base Scrolling Mode? In scroll mode, slow level changes can be monitored in real time. Provide an additional amplification time base.
It can provide 21000 times amplification view effect in running or pause state. Support digital fluorescence technology, dual-channel generate a closed curve graph can be used to compare the amplitude, frequency, phase of two groups of signals. 5mV High Sensitivity Ultra-high Waveform Signal-to-Noise Ratio? The analog front-end uses outstanding shielding measures and a stable feedback system; all parts with sources of interference are located away from the analog front-end.
The analog front end has a built-in switchable 20MHz hardware bandwidth limiting component, and the -3DB attenuation bandwidth is 20MHz when turned on. Intercept part or all of various signals measured by oscilloscope to be used as output signal of signal generator, up to 500 custom signals can be stored. The analog front-end input stage is designed with high-voltage resistance, and the overall design can achieve 400V burn-in resistance in any gear. Built-in 3000mah high-capacity rechargeable lithium battery, up to 4 hours of life, can be set from 5 minutes to 2 hours of timeout time, support 5V2A quick charging.
Manual cursor measurement, equipped with efficient one-key auto adjustment function, signal measurement is easy and fast; cursor accurate measurement of waveform parameters. Qualitative overview of the current signal spectrum components. Firmware Upgrade & Imaging Export? Connect to computers via USB cable, copy the system imaging file iso to U disk for upgrade, also you can directly view or copy the saved BMP imaging file inside the oscilloscope.
Specifications: Name: 2in1 Oscilloscope Signal Generator Material: plastics Language: English Battery type: 1 built-in 3000mAh battery (included) Number of channels: 2 Analog bandwidth: 180MHz Maximum sampling rate: 500MSPS Input coupling: DC/AC Rise time: 1.8nS Storage depth: 120Kpts Input impedance: 1MQ-18PF Vertical sensitivity: 5mV10V(1X) Time base range: 5nS50S DC Accuracy: ±2% Time accuracy: +0.01% Trigger architecture: digital trigger Trigger mode: auto/single/regular Trigger edge: rising edge/falling edge Test range: 40mV80V(1X) Screen storage: 90 sheets Interceptwave signal: 500 Interceptwave outputter: Support 20M hardware bandwidth limit: support Cursor measurement: frequency/period/amplitude ZOOM scaling time base: support Digital fluorescence technology: Support Adjustable Automatic Bandwidth Limiting: Support Color temperature display technology: Support Scrolling mode: support X-Y mode: Support Auto-adjustment: Support Waveform manager: support High voltage anti-burning: all gears withstand voltage 400V Screen size: 2.8 inch Screen resolution: 320 240 Screen display process: IPS full view Expansion interface: USB transmission interface Auto shutdown: 5 minutes 2 hours Firmware upgrade: support iso imaging upgrade Charging requirements: 5V-2A Battery capacity: 3000mah Standby time: 34 hours on full charge Parameter measurement: 12 kinds Signal generator: 14 kinds of standard function signal Waveform storage: 250 groups Item size: 135 90 40mm / 5.31 3.54 1.57in Package size: 245 147 80mm / 9.65 5.79 3.15in Package weight: 680g / 1.50lb Packing List: 1 2in1 Oscilloscope Signal Generator 2 Probe 1 USB Cable 1 Guideline.