ADS5012H Handheld Portable IPS LCD Mini Digital Oscilloscope 100MHz 500MSa/s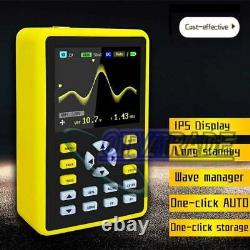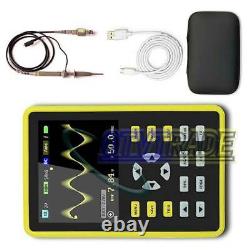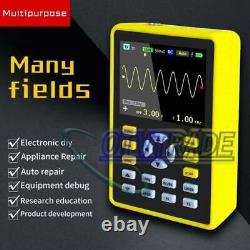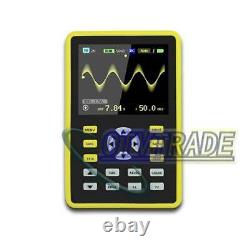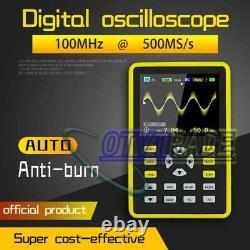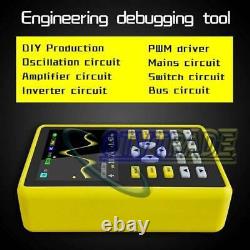 ADS5012H Handheld Portable IPS LCD Mini Digital Oscilloscope 100MHz 500MSa/s. 1:Intelligent anti-burn, 1X Can withstand up to 600V withstand voltage. 3:2.4 inch color display screen with IPS technology. 6:Built-in 64M storage space, the maximum storage of 2000 waveform pictures.
7:Powerful waveform file manager, support thumbnail browsing, viewing, details view, flip, delete and other functions. 8:High measurement voltage range, 1X can measure 0 80 V, 10X can measure 0 800V. 9:Up to 12 parameters measurement:VPP, VP, Vmax, Vmin, Vavg, Vrms, Frequent, Duty+, Duty-, Time+, Time-, Time. 10:At any time, the waveform display (pause function) is frozen.
11:Equipped with high efficiency One-button AUTO. 12:Complete triggering function (single, normal, automatic). 13:Built in 5000mAh rechargeable lithium battery, Fully charged for 12 hours of continuous use.
15:Memory compression technology, waveform refresh screen does not flicker. 16:Anti-slip anti-drop silicone sleeve. 17:Ultra small volume, easy to carry. 1:Analog band width: 100MHz.
2:Maximum real time sampling rate: 500MS/s. 3:Vertical sensitivity: 50 mV/div 100 V/div. 4:Horizontal time base range: 50S/div 6nS/div.
5:Maximum test voltage: 80 V (1X probe), 800 V (10X probe). 10:Trigger mode: Single, Normal, Auto.
11:Trigger edge: Ascending/descending edge. 12:External trigger voltage 0 - 80 V.
13:Display: 2.4 inch - 320240 - IPS process. 14:Power supply: 5000 mAh lithium battery. 15:Size: 114mm x 74mm x 33mm. 1 x ADS5012H oscilloscope host. 1 x Matching 100MHz probe(1X and 10X). 1 x Micro USB data line. 1 x User manual (English). 1 x High quality package. Thank you for your support. We are not responsible for undeliverable address. Dear friend, your happy is very important to me!
We stand behind every product we sell. You can enjoy top-quality product and high-quality services from us, Trust me that you will have a pleasant shopping experience in here. We will be happy to assist you. We would try our best to serve you with any question / problem.