Digital Intelligent Storage Multi-meter Oscilloscope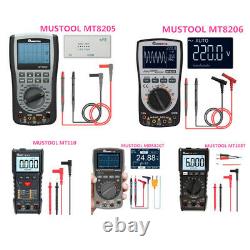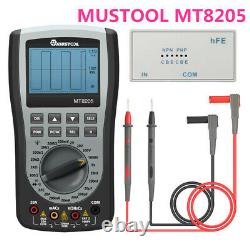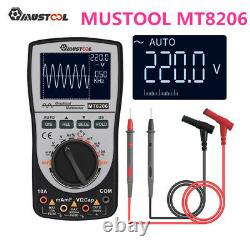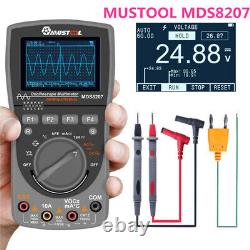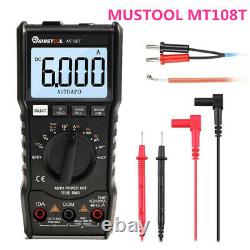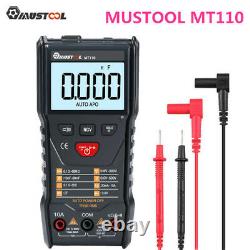 HD display Screen; White on black; large view angle. Analog Bandwidth: DC AC 10kHz.
The maximum real-time sampling rate: 200ksps. DC voltage: 200.0mV 1000V ± (0.75% rdg + 10dgt). AC voltage: 200.0mV 750V ± (1.0% rdg + 10dgt).
DC Current: 2mA 20.00A ± (1.2% rdg + 10dgt). AC current: 2mA 20.00A ± (1.5% rdg + 10dgt).
Resistance: 200.0 20.00M ± (1.0% rdg + 5dgt). Capacitance: 20.00nF 200.0F ± (2% rdg + 10dgt). Frequency: 2KHz 200KHz ± (1.0% rdg + 5dgt).
Diode test: open circuit voltage of about 1.5 V, the maximum test current of about 1.5mA. Continuity Test: determine resistance: about 100.
Remote control Detection: 38kHz carrier frequency. Transistor Magnification: 30 1000 (annex). 2 x Test Lead 1 x Portable Bag 1 x English User Manual. Analog Bandwidth : ACV/DCV/ACA/DCA 20kHz , 200k high-speed A/D sampling.
Digital multimeter with 41-segment analog bar display, 200k high-speed A/D sampling, 4000 counts auto-range(can be selected manually), one-button switch of graphical waveform display during measurement. High reliability with panel calibration technology and memory calibration, sparing the need for adjustment with potentiometer. Storing 100 sets of data and 10 waveforms independently. Capable of holding waveform and data during measurement, easy to view and analyze.
Realizing one-button automatic waveform capture, operator-friendly to learn and operate. Displaying historical data and real-time measurement on the same screen with unique record reading mode for easy comparison. Effectively eliminating lead resistance, distributed capacitance or interference signals with relative value measurement (clearing). Extending battery life with automatic shutdown function.
Featuring DC/AC voltage/current, resistance, capacitance/mF (large capacitance). Frequency measurement with 5Hz 5MHz automatic switching range and the maximum input of 380VAC. 14.10A AC and DC current measurement with protection against voltage error. Capacitance double gear design 0.1nf-100uf gear position: convenient for small capacitors to measure quickly. 16.10mf gear position: high capacitance and high accuracy are guaranteed.
Innovative design of the one-button "silent mode", quiet in mastery In the off state, press and hold the SELE button for two seconds to turn it on to enter the silent mode; In the off state, press and hold the SELE button for two seconds to turn it on again, it will exit the silent mode. When the meter enters the "silent mode", all beeps and prompt tone will be turned off. Avoid the instrument sleeping in the background and use the battery to cause over-discharge of the battery. The meter without operation for 15 minutes (no rotary switch and button operation) will automatically enter the sleep state; Turn the rotary switch to OFF and then turn it on again, the meter will enter to normal measurement state.
When the Instrument is in the off state, press and hold the AUTO button for two seconds to turn it on again , then the auto sleep function can be cancelled. In the off state, press and hold the AUTO button for two seconds to turn it on and then release it to resume auto sleep.
Tips The main chip and the power of screen display are only turned off when the meter is automatically turned off, but there is still a part of the circuit working, which will have an operating current of about 4 mA. ACmV small signal waveform measurement. ACmV small signal waveform measurement, you need to manually select the ACmv range first, then long press the "SELE" button to enter the waveform display.
Press theAUTO button to realize one-button automatic capture fuction and display a stable waveform. When the frequency more than 10 kHz, the one-button automatic capture time will be longer. 1 x MT8206 Unit 1 x Bag 1 x Pair of Probes 1 x English User Manual 1 x Package Box. Here is the MUSTOOL team. Last year, we launched a unique and excellent multimeter- MUSTOOL MT8206. We've been thinking about how to Perfect the idea, that make a product with complete oscilloscope functions and complete multimeter functions. After 1 year' research and development, Yesss!!! The MDS8207 is finally published!
A must-have tool for all electronics enthusiasts! This handheld scopemeter is a portable tool for waveform measurement. In contrast with analog oscilloscope, desktop digital oscilloscope or digital multimeter. This multi-purpose station own 2 universal test instrument functions: Oscilloscope + Multimeter.
It can quickly and accurately detect the faults of the circuit under test and can serve as an electronic engineers' assistant, is outgoing right-hand product for engineers, features are compactness, beautiful appearance and clear interfaces. It has three trigger modes: Auto, Normal and Single.
You can lock and save the waveform of a non-periodic signal. Its multimeter part uses a dedicated chip (6000-count), which can provide a higher precision. It is no exaggeration to say that the MDS8207 is one of best 2 in 1 portable test tools(at this price) in outdoor research, production, debugging and repairing and will make you convenient in work! 40MHz Bandwidth and 200MHz real time sampling rate oscilloscope. Multimeter and Oscilloscope Automatic measurement : Magic tool and essential for test newbie. HD display screen, high-contrast display technology (white character on black background). DMM functions: true RMS, AC/DC voltage, AC/DC current, resistance, capacitance, frequency, duty cycle, diode/on-off test, transistor, temperature; maximum/minimum value displayed at the same time. DSO Automatic Measurement: VPP, Vmax, Vmin, Vavg, Vrms, Frequency 7. Manual shutdown or automatic shutdown is optional. MDS8207 can store 100 sets of DMM data and 30 sets of DSO data.
The storage location can be arbitrarily selected, so that users can store important waveforms in their desired location for viewing. The measurement waveform signal is very fast. Just press the AUTO button to display a perfect waveform.
MDS8207 can directly measure high and low voltage signals, the highest measurement signal is 2400Vp-p, traditional oscilloscope can only measure low voltage signal up to 300Vp-p. MDS8207 can maintain waveform and analyze waveform. More new functions, waiting for you to discover..
1 x MUSTOOL MDS8207 Multimeter Oscilloscope 1 Pair x Test Pens 1 x English User Manaul. The MUSTOOL MT108T is a pocket-sized 6000 counts automatic digital instrument. It's a stable performance, high precision, high reliability clear readings, and overload pro tection. With a large-screen LCD display, boost power supply, even in the 2.3V low battery edge, it can guarantee the backlight high brightness, the table is easy to carry, is a vast number of users extremely like the instrument, the backlight can be bright can be automatically turned off after 15 seconds. It's an ideal tool for the laboratory, factory, radio enthusiasts and families.
Auto Range (User can choose manual operation) HD LCD screen display with backlight. Tips: Press and hold the backlight key for 2 seconds to turn on the 15S auto off function; press for 3 seconds, the backlight remains on. Diode 4.2V high voltage output, easy to light the LCD. 10A large current measurement, UA level small current measurement True RMS measurement.
Main measurement/functions: Square wave output, NCV(Non contact voltage), temperature, flashlight, AC/DC voltage, AC/DC current, resistance, capacitance, diode, frequency, cycle, continuity, buzzer. 1 x MUSTOOL MT108T Ture RMS Multimeter 2 x Test Lead Set 1 x Temperature Sensing Cable 1 x Storage Bag 1 x English User Manual.
Auto Recognition According to Measurment Requirements High Voltage DC1000V Protection Auto Measure Digital Multimeter NCV/Super Bright Flshlight Function. Basic function Measuring range Accuracy. AC non_contact electric field measurement. Auto recognition According to Measurment requirements. 40Hz-1kHzN only sine wave& triangular wave, other >200Hzwaveforms are for reference only. 1 x MT110 Multimeter 1 x English User Manual. The item "Digital Intelligent Storage Multi-meter Oscilloscope" is in sale since Tuesday, June 23, 2020. This item is in the category "Business & Industrial\Test, Measurement & Inspection\Analyzers & Data Acquisition\Oscilloscopes & Vectorscopes".
The seller is "stanislavelino-0" and is located in Hong Kong. This item can be shipped worldwide.
MPN: Does Not Apply
Brand: Unbranded