ET521S 2in1 Digital Storage Oscilloscope Function Signal Generator 50MHz 200MS/s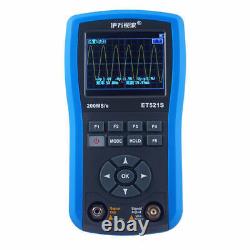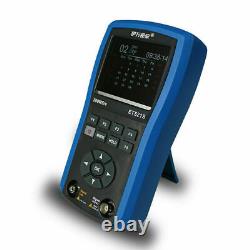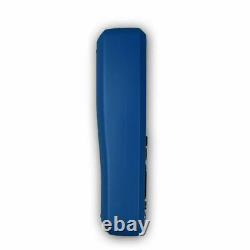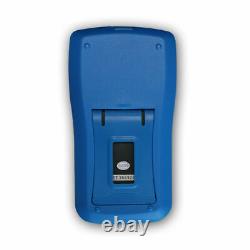 ET521S 50MHz 200MS/s Handheld Oscilloscope Function Signal Generator 156KHz 2in1 Brief introduction. 50MHz digital storage oscilloscope (DSO)2.
10Hz156kHz function signal generator (DDS)3. Digital/analog clock and calendar display4.
Help window to prompt key functions and measurement items5. Automatic display of measured waveforms and automatic zero correction7. Digital readout of Vp-p, +Vp, -Vp, f, T, dV and dt and measurement setting parameters8. Memory/readout of up to 40 DSO waveforms9.
Generate sine wave, triangular wave, sawtooth wave and square wave signals, used in conjunction with oscilloscope function to compose a test system10. Use internal 200µS/400µS to test square waves, facilitate the detection of HOT type inter-turn faults ringing signal11. Auto shutdown and continuous work modes to choose from, automatically select continuous work mode during charging12.
320X240 3.5-inch color LCD display with LED backlight13. Built-in 1600mAh lithium rechargeable battery pack and equipped with AC power supply adapter externally General characteristics: Display 320 x 240 dot matrix graphic color LCD View area 78mm x 58mm. Backlight White Auto shutdown 10 minutes. Low power symbol Yes Charge time More than 4 hours. Continuous service time About 120 minutes Storage capacity 40 groups of waveform records. Dimensions 200mmx135 mmx52mm Weight About 490g (excluding other accessories). Battery Built-in 1600mAh lithium battery pack Power supply adapter 110V250V, 6V/1A, protection switching power supply. Specifications of oscilloscope: Analog bandwidth DC50MHz probe X10; DC5MHz probe X1 (3db bandwidth, sine wave response). Maximum real-time sampling rate 200Msps Vertical resolution 8 bits.
Coupling mode DC/AC Graduation Vertical ±4div; horizontal 12div. Vertical sensitivity range 10mV/div 50V/div 1-2-510mV/div50V/div 1-2-5 binary switch Time base range 5ns/div2.5s/div 1-2.5-5 binary switch. Vertical amplitude accuracy ±(5% + 0.1div) Time base accuracy ±(0.01% + 0.1div).
Automatic zero correction Yes Measurement mode Regular, single. Trigger level ±3.8div (0.04div per step) Single trigger slope selection Rising/falling edge.
Trigger position adjustment ±3.8div (0.04div per step) Automatic setting Automatically set time base and vertical amplitude. Cursor measurements dV, dt, Automatic measurements Vp-p, +Vp, -Vp, f, T. Automatic measurement accuracy ±(5% + 0.1div) Waveform interpolation (sinx)/x Accessories: Oscilloscope probe x1, signal output wire x1, power supply adapter x1, carrying case and English manual.
What in Package: 1 x ET521S Signal Generator1 x Oscilloscope probe1 x Signal output wire1 x Power supply adapter1 x Carrying case1 x English manual. Business time: GMT8 (9:00-18:00) from Monday to Friday.