Hantek 1008C 8CH Virtual Automotive Diagnostic DAQ Signal Generator Oscilloscope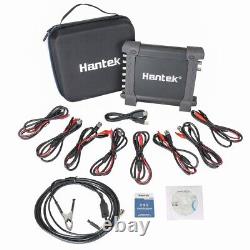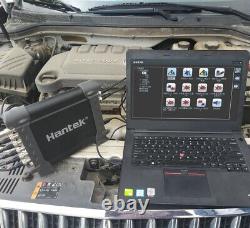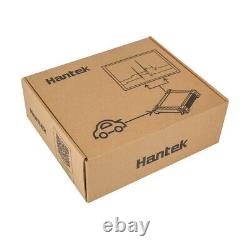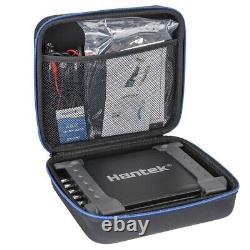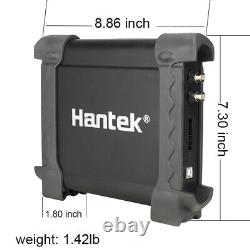 1008C 8CH Auto Scope/DAQ/8CH Programmable Generator(Main body)1. Secondary ignition probe(HT25)1. 8 channels oscilloscope for vehicle testing.
Over 70 types of automotive diagnostic function Ignition/Sensor/Bus detection/Performe/Starter and charging circuits etc. Video Help Function, provides the video help of diagnostic which can be watching online. The diagnostic result can be generated diagnostic report. Printed or taken screenshot by pushing one key, many methods to save the data. Supported to record waveform for a long time. It can simulate camshaft and crankshaft signal. Transmit signals through USB 2.0 interface plug and play, and no need extra power supply. There are three functions of vehicle diagnosis, oscilloscope and signal generator, including 78 types of vehicle diagnosis function. Save the current waveform and generate pictures. Storage location is optional and easy to find.
Callout the quick guide column with one button. There are special vedio guide for each vehicle diagnosis function, including wiring method, adjustment method, reference waveform etc. And it is supported to be checked through scanning the QR code.
There are 78 types of standard reference waveform inside and can be callout or close with one button. It is convenient to be compared. 20 types of automatic measurement method which can be callout or close with one button. It is convenient and visual to read out the result. The result can be printed with one button and generate diagnosis report which is easy to be saved and recorded.
The user can save the waveform as REF format and callout it again when you need to compare the two waveforms catched in different time. The diagnosis result can be saved as the format of txt, csv, rfc, xls, doc, jpg and etc. It is convenient to be checked and compared later.
8CH signal can be measured simultaneously. The measurement voltage of each channel can be adjusted independently. You can choose to open or close each channel. Support to record and replay the waveform.
The waveform can be save into the computer hard disk and easy to read. There is no limit to the record time which can long-time measure and record the waveform for troubleshooting. Support the display surface in Chinese, English, German language, and it can be switched freely. Support 4 types of cursor measurement mode -cross, track, horizontal, and vertical. It's easy to read out the time and voltage of irregular signal. The background color is optional as user's preference. And the lightness of waveform and gridding is settable. Install the PC software and start to use without any other drivers.
USB2.0 power supply + communication interface, plug and play, and support hot plugging. Signal generator function, can simulate crankshaft and camshaft signal. Secondary Ignition Distributor Type (Plug Lead). Secondary Ignition Distributor Type (King Lead).
Secondary DIS or CPC (Negative-fired). Air Flow Meter (Hot Wire). Air Flow Meter (Air Vane). Air Intake PressureSensor (BOSCH Diesel).
Camshaft (BOSCH Common Rail Diesel). Lambda Sensor Zirconia Pre & Post cat. Throttle Pedal Switch (Bosch Diesel). Hall Effect Road Speed Sensor. CAN Bus LH Long Capture. Injector Current & Primary Ignition. Injector Bosch CDi 3 (Current). Idle Speed Control Valve (Rotary). Idle Speed Control Valve (Electromagmetic). Bosch CDi3 Quantity Control Valve. Bosch CDi3 Pressure Regulator Valve. Charging Circuits Current/Voltage Starting 24V.
Charging Circuits Current/Voltage Idling 24V. Charging Circuits Alternator AC Ripple/Diode Diagnosis. CH1, CH2, CH3, CH4, CH5, CH6, CH7, CH8. Vpp, Vamp, Vmax, Vmin, Vtop, Vmid, Vbase, Vavg, Vrms, Vcrms, Preshoot, Overshoot.
Frequency, Period, Rise Time, Fall Time, Positive Width, Negative Width, Duty Cycle. Horizontal, Vertical, Track, Auto Measure Modes. +, -, x, ÷, FFT, Invert. Rectangular, Hanning, Hamming, Blackman Window.
USB 2.0(Full Speed). No need extra power supply. 190 x 167 x 35 (mm). If you we are not satisfied with the product or service, please contact me and don't give us negative or natural feedback, We must give you a satisfactory solution. We do not work holidays in China.