Hantek 2CH Digital Storage Oscilloscope Signal Generator 100Mhz/150Mhz 1GS/s Sam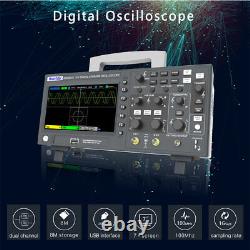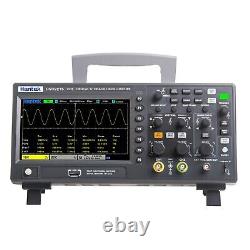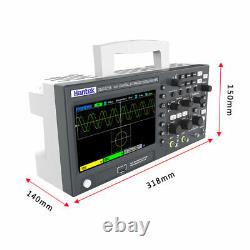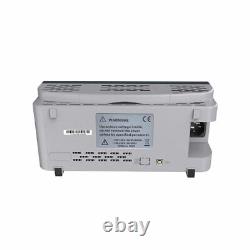 Hantek Digital Storage Oscilloscope 2Channels 100Mhz/150Mhz Bandwidth 1GS/s Sample Rate+1CH 25Mhz Signal Generator. 1 2 channels, both are respectively controlled by independent knobes. 1 GSa/s real-time sample rate. 6 Built-in 1 CH 2. 9 CAN decode and tocol analysis.
10 Can save as multiple data formats, such as setting, waveform, referance waveform, CSV, picture. 5 bits digital voltage meter and 6 bits hardware frequency indicator function. 12 32 kinds of auto measurements with statistics, real-time statistics of maxmum, minimum, standrad deviation and etc. 13 2 sets of digital voltmeter. 14 Support threshold testing, free measurements within the screen.
DSO2C15 without waveform generator function! 1GSa/s (single channel) 500MSa/s (two channels). Display high frequency and random burr. Average waveform, times: 4, 8, 16, 32, 64, 128.
2ns/div100s/div 1, 2, 5 step by step. ±0.5 div×minimum time base gear. Sample Rate and Delay Time Accuracy. Delta Time Measurement Accuracy (Full Bandwidth)Sample Rate and Delay Time Accuracy.
±50ppm(at any interval greater than 1ms). Rising time in BNC position (typical). 8 bits resolution, each channel samples simultaneously.
+, -, ×, ÷, FFT. Window: Rectangle, Hanning, Hamming, Blackman, Bartlett, Flattop. In''normal'' or''average'' acquisition mode, the accuracy of 10V/div to 10mV/div is ±3%.
In''normal'' or''average'' acquisition mode, the accuracy of 5mV/div to 2mV/div is ±4%. Note: Bandwidth reduced to 6MHz when using a 1X be. Edge, Pulse width, Video, Slope, Overtime, Window, Pattern, Interval, Under Amp, UART, LIN, CAN, SPI, IIC. ±5 divisions from the center of the screen.
±4 divisions from the center of the screen. 0.2 div×volts/div within ±4 divisions from the center of the screen. Rising edge, falling edge, rising or falling edge. Scanning line, line number, odd field, even field, all field. 0: low level; 1: high level; X: ignore.
Start, Stop, data, Parity ERR, COM ERR. 5 bit, 6 bit, 7 bit, 8 bit. Interval field, synchronization field, ID field, synchronization error, identifier, ID and data. Start bit, remote frame ID, data frame ID, frame ID, data frame data, error frame, all errors, ACK Error, overload frame.
10000, 20000, 33300, 500000, 62500, 83300, 100000, 125000, 250000, 500000, 800000, 1000000. 4, 8, 16, 24, 32. Start bit, stop bit, No Ack, address, restart, address and data. Frequency, period, mean, peak-to-peak, RMS, minimum, mixmum, rising time, falling time, + width, - width, base, top, middle, amplitude, overshoot, preshoot, rising edge phase difference, falling edge phase difference, + duty, - duty, period mean, PRMS, FOVshoot, ROVshoot, BWIDTH, FRF, FFR, LRR, LRF, LFR, LFF.
Hardware 6 bits frequency meter. Sine, square, ramp, Exp, noise, DC. 0.1 Hz to 10 MHz. 0.1 Hz or 4 bits, take the greater one. ±3.5 V, high impedance.
V or 3 bits, take the greater one. 800 (horizontal)480 (vertical) pixels. 16 million colours (24 bits true colour). Minimum, 1 s, 5 s, 10 s, 30 s, infinite. (±10%), 45Hz to 66Hz, CAT?
T, 3.15A, 250V, 5x20mm. 40+71 °C (-40159.8 °F). 3, 000m (10, 000 feet).
10 minutes on each axis. 318 x 110 x 150mm (length x width x height). If you need us send the item to other address, please tell us. Please contact me before you return it.
If item defective after 3 months, you can still send it back to us. We will send you a new one after receiving the defective item. We will get back to you in 12 working hours.