Hantek 6074BC PC USB 4 CH 1GSa/s 70Mhz Bandwidth Digital Storage Oscilloscope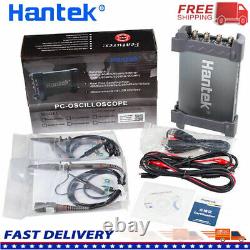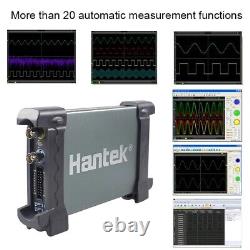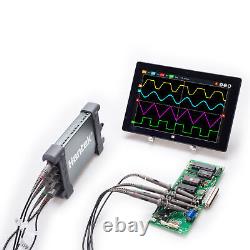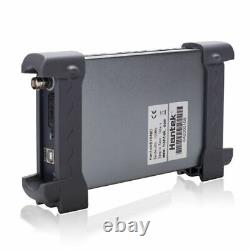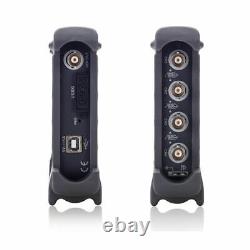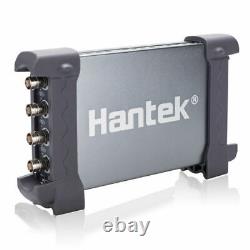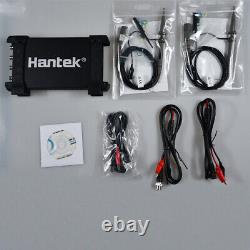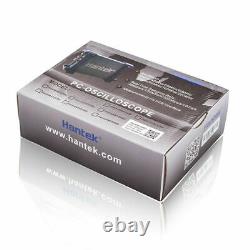 The performance of this model could even better than the performance of benchtop oscilloscope. It has 4 independent analog channels, 1GSa/s real-time sampling rate, 2mV-10V/DIV input sensitivity, and 250MHz bandwidth. Pass/fail test, resourceful trigger function, dynamic cursor tracking, waveform record and replay function. The operation interface is similar to banchtop oscilloscope, easy to operate with high cost performance.
USB2.0 Interface, plug and play device. Good mechanical design with small size which is easy for carrying. The outer case is made by the same material with iPad - Anodised aluminium. It has great heat resistance and abrasive resistance with beautiful appearance.
The hardness of aluminium alloy surface is greatly improved. Fit for the portable computers, table PC, and repairing/fixing of production line. Suitable for business trip use. Software support: Windows10, Windows 8, Windows 7. The waveform data could be output to EXCEL, BMP, JPG as time and voltage category.
More than 20 kinds of automatic measurement function, PASS/FAIL Check function, fit for engineering application. Waveform averaging, afterglow, lightness control, reverse, add, subtract, multiply, divide, X-Y display. One computer could connect with multiple oscilloscopes, expand the channel number easily.
USBXI standard interface, easy to insert into USBXI case to constitute assembling instrument. Provide secondary development library DLL; Provide Labview\VB\VC\QT developing examples. +, -, x, ÷, FFT, Invert. Vpp, Vamp, Vmax, Vmin, Vtop, Vmid, Vbase, Vavg, Vrms, Vcrms, Preshoot, Overshoot, Frequency, Period, Rise Time, Fall Time, Positive Width, Negative Width, Duty Cycle.
1 x 6074bc usb oscilloscope. 2 x BNC - clip cable. 1 x CD driver / manual... It usually takes around 2 to 3 weeks to United Stated, United Kingdom, Australia, Canada and some European countries. But for other countries, it may need 4-6 weeks to deliver the parcel.
All items will be tested or checked carefully and packaged in good condition before sending out to you. Some faulty items might happen especially after overseas transportation. We promise we will provide prompt and satisfactory solution to you. Your 100 satisfaction is our greatest goal here. Sometimes it might get filtered as a spam or our office is closed for weekends and public holidays.
Hantek HT25COP Ignition waveform of automobile engine Coil-on-Plug Signal Probe. Hantek 1008A/B/C+HT201 8CH PC USB Automotive Diagnostic Digital Oscilloscope DAQ. Hantek 2D72 2C72 2D42 2C42 Oscilloscope USB Waveform Generator Multimeter Tester. Hantek DSO2D15 2 Channels 150Mhz Storage Digital Oscilloscope Multimeter Tester. Hantek DSO2D10 2CH 100MHz 1GSa/S Digital Oscilloscope + 1CH AWG Signal Generator.
Hantek 6074BD Digital Oscilloscope Waveform Generator Bandwidth 70MHz 4 Channels. Hantek 6022BE Storage 2CH FFT PC Based Digital Oscilloscope USB2.0 48MSa/s 20MHz. Hantek 6022BL PC USB Portable Oscilloscope 20MHz 48MSa/s + 16CHs Logic Analyzer. Hantek DSO5072P Digital Oscilloscope 2 CH 70MHz 1GSa/s 40K TFT Signal Waveform.
Hantek 6022BE/6022BL Auto Oscilloscope 2CH Digital Storage 20MHz Logic Analyzer. Hantek DSO5072P DSO5102P DSO5202P 70MHZ 100MHZ 200MHz 2CH Digital Oscilloscope. Hantek 1008C 8CH Oscilloscope PC USB Automotive DAQ Program Generator Diagnostic. Auto Diagnostic Digital Oscilloscope Hantek 1008A 8CH DAQ Program Generator USB.
Hantek 6074BE Diagnostic Tool USB 1GSa/s 70MHz Car Auto 4CH Digital Oscilloscope. Hantek DSO2000 Series Digital Oscilloscope 2CH+1CH 1GSa/s 100/150MHz 25MHz AWG. Hantek 6074BE & HT201 Attenuator Digital Storage Oscilloscopes PC USB 4 CH 70MHz. Hantek DSO2C10 Digital Storage Oscilloscope 2 CH 100Mhz USB Multimeter Tester. Hantek DSO2C15 Digital Storage Oscilloscope 150MHZ Bandwidth Dual Channel 1GSa/s.