Hantek 6254BD Digital Storage Oscilloscope 250MHz 1GSa/s +25MHz Signal Generator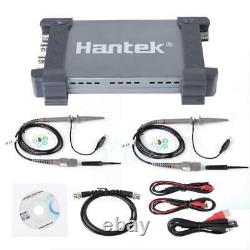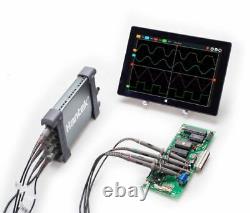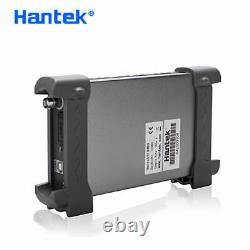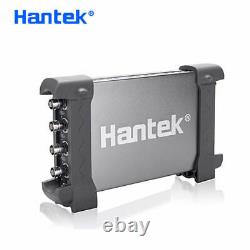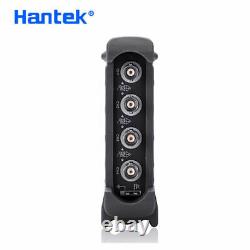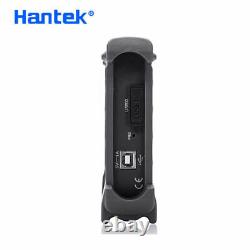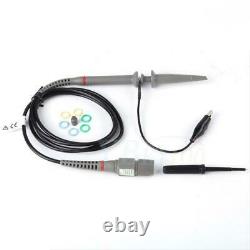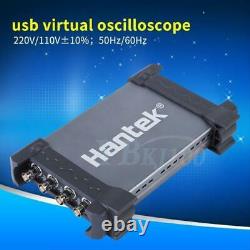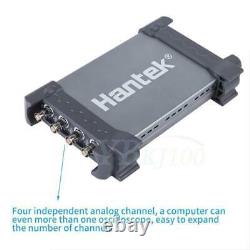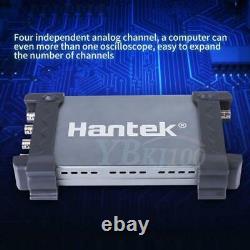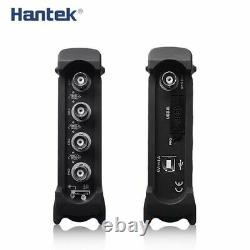 Hantek 6254BD Digital Storage Oscilloscope 250MHz 1GSa/s Arbitrary Waveform New. 4CH oscilloscope & function/arbitrary waveform generator.
The performance of this model could be even better than the performance of benchtop oscilloscope. It has 4 independent analog channels, 1GSa/s real-time sampling rate, 2mV10V/DIV input sensitivity, and 70MHz/100MHz/200MHz/250MHz bandwidth. Pass/fail test, resourceful trigger function, dynamic cursor tracking, waveform record and replay function.
The operation interface is similar to banchtop oscilloscope, easy to operate with high cost performance. USB2.0 Interface, plug and play device. Good mechanical design with small size which is easy for carrying. The outer case is made by the same material with iPad - Anodised aluminium. It has great heat resistance and abrasive resistance with beautiful appearance.
The hardness of aluminium alloy surface is greatly improved. Fit for the portable computers, table PC, and repairing/fixing of production line. Suitable for business trip use. Software support: Windows10, Windows 8, Windows 7. The waveform data could be output to EXCEL, BMP, JPG as time and voltage category. More than 20 kinds of automatic measurement function, PASS/FAIL Check function, fit for engineering application. Waveform averaging, afterglow, lightness control, reverse, add, subtract, multiply, divide, X-Y display. One computer could connect with multiple oscilloscopes, expand the channel number easily. USBXI standard interface, easy to insert into USBXI case to constitute assembling instrument. Provide secondary development library DLL; Provide Labview\VB\VC\QT developing examples. Specifications: Brand Name: Hantek Material: Aluminium Alloy + Plastic Model: Hantek6074BD / Hantek6104BD / Hantek6204BD / Hantek6254BD (Optional) Bandwidth: 70MHz / 100MHz / 200MHz / 250MHz (Correspondingly Optional) Oscilloscope Probe Model: PP-90 / PP-150 / PP-200 / PP-250 (Corresponding) Item Size: Approx. 210 125 37mm / 8.3 4.9 1.5in Item Weight: Approx. 470g / 16.6oz Package Size: Approx.
24 17.5 7.6cm / 9.4 6.9 3.0in Package Weight: Approx. 1025g / 36.2oz Parameters.
Hantek6074BD / Hantek6104BD / Hantek6204BD / Hantek6254BD. 70MHz / 100MHz / 200MHz / 250MHz. +, -, x, ÷, FFT, Invert. Vpp, Vamp, Vmax, Vmin, Vtop, Vmid, Vbase, Vavg, Vrms, Vcrms, Preshoot, Overshoot, Frequency, Period, Rise Time, Fall Time, Positive Width, Negative Width, Duty Cycle. 2 passive probes, 2 gator clip lines1 BNC to BNC cord.
Package List: E1809-4 1 PC USB Digital Storage Oscilloscope 2 Dolphin/Gator Clip Cable 2 Oscilloscope Probes 1 USB Power Line 1 Upper-computer Software CD with User Manual. Si vous avez besoin d'aide, n'hésitez pas à nous contacter! L'acheteur est responsable des droits de douane. Nous garantissons l'envoi dans les 24 heures après la confirmation du paiement (sauf vacances). S'il y a une situation imprévue par exemple, si la commande ne peut pas être expédiée dans les 24 heures, nous vous contacterons dès que possible et ferons un suivi étroit pour expédier votre commande rapidement. Tous les produits seront testés strictement avant l'expédition. Nous nous soucions de nos précieux acheteurs, si vous avez des questions, notre personnel du service clientèle sera ravi de vous aider. Nous faisons de notre mieux pour répondre à vos courriers électroniques dès que possible. Toutefois, en raison du volume élevé de courriers électroniques entrants quotidiens et du décalage horaire, nous ne pourrons peut-être pas répondre immédiatement.
Veuillez prévoir 24 heures ouvrables pour que nous puissions vous répondre. The item "Hantek 6254BD Digital Storage Oscilloscope 250MHz 1GSa/s +25MHz Signal Generator" is in sale since Monday, February 25, 2019. This item is in the category "Équipements professionnels\Équipement d'essai, mesure\Analyseurs,acquisition données\Oscilloscopes, vecteurscopes".
The seller is "worklightsuppliers" and is located in HONGKONG. This item can be shipped worldwide.
Bande passante maximale: 250MHz
Marque: Hantek
Nombre de canaux: 4
Numéro de pièce fabricant: Non applicable
Résolution numérique oscilloscope: 12-bit
Taux max d'échantillonage tps réel: 1GSa/s
Unité de mesure: kg