Hantek DSO2000 Series USB Digital Storage Oscilloscope 2CH 1GSa/s 100MHz/150MHz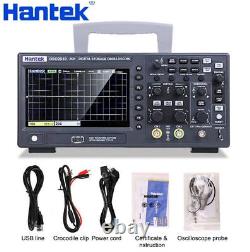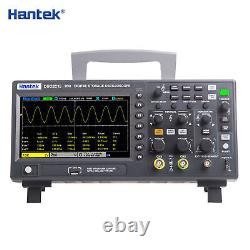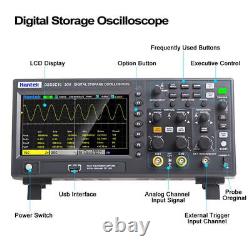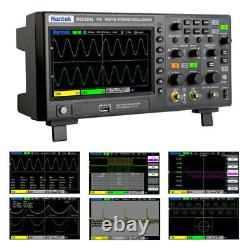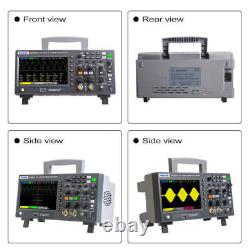 Hantek HT25COP Ignition Waveform of Automobile Engine Coil on Plug Signal Probe. Hantek 6074BC 6074BD 6074BE 4CH 1GSa/s 70Mhz PC USB Digital Storage Oscilloscope.
Hantek 1008A/B/ C 8CH Auto Diagnostic DAQ Oscilloscope Oscillometer Generator. Hantek DSO5072P DSO5102P DSO5202P 70MHZ 100MHZ 200MHz 2CH 1GSa/s Oscilloscope. Hantek 6022BE 6022BL Storage 2CH PC USB Based Digital Oscilloscope 48MSa/s 20MHz.
Hantek 2C42 2C72 2D42 2D72 3 in1 Digital Osciloscope 2CH USB Multimeter Tester. 2 channels, both are respectively controlled by independent knobes.
100 MHZ, 150MHZ analog channel bandwidth. 1 GSa/s real-time sample rate. Built-in 1 CH 5MHz waveform generator. Trigger: Edge, Pulse width, Video, Slope, Overtime, Window, Pattern, Interval, Delay, UART, LIN, CAN, SPI, IIC.
CAN decode and protocol analysis: RS232/UART? Can save as multiple data formats, such as setting, waveform, referance waveform, CSV, picture. 5 bits digital voltage meter and 6 bits hardware frequency indicator function. 32 kinds of auto measurements with statistics, real-time statistics of maxmum, minimum, standrad deviation and etc. 2 sets of digital voltmeter. Support threshold testing, free measurements within the screen. Abundant SCPI remote command control.
Many external interface: USB Host/Device. DSO2C10 and DSO2C15 have no waveform generator function!
1GSa/s (single channel) 500MSa/s (two channels). Display high frequency and random burr. Average waveform, times: 4, 8, 16, 32, 64, 128. 2ns/div100s/div 1, 2, 5 step by step. ±0.5 div×minimum time base gear.
Sample Rate and Delay Time Accuracy. Delta Time Measurement Accuracy (Full Bandwidth)Sample Rate and Delay Time Accuracy. Single-shot, Normal mode ±(1 sample interval+100ppm×reading+0.6ns). >16 times averages ±(1 sample interval+100ppm×reading+0.4ns). ±50ppm(at any interval greater than 1ms).
Rising time in BNC position (typical). 8 bits resolution, each channel samples simultaneously. +, -, ×, ÷, FFT.
Window: Rectangle, Hanning, Hamming, Blackman, Bartlett, Flattop. In BNC position = 10Hz. In''normal'' or''average'' acquisition mode, the accuracy of 10V/div to 10mV/div is ±3%.
In''normal'' or''average'' acquisition mode, the accuracy of 5mV/div to 2mV/div is ±4%. Note: Bandwidth reduced to 6MHz when using a 1X probe.
Edge, Pulse width, Video, Slope, Overtime, Window, Pattern, Interval, Under Amp, UART, LIN, CAN, SPI, IIC. ±5 divisions from the center of the screen.
±4 divisions from the center of the screen. EXT(Only With AWG Model).
0.2 div×volts/div within ±4 divisions from the center of the screen. Rising edge, falling edge, rising or falling edge.
CH1, CH2, EXT(Only With AWG Model). Scanning line, line number, odd field, even field, all field. 0: low level; 1: high level; X: ignore. Start, Stop, data, Parity ERR, COM ERR.
5 bit, 6 bit, 7 bit, 8 bit. Interval field, synchronization field, ID field, synchronization error, identifier, ID and data.
Start bit, remote frame ID, data frame ID, frame ID, data frame data, error frame, all errors, ACK Error, overload frame. 10000, 20000, 33300, 500000, 62500, 83300, 100000, 125000, 250000, 500000, 800000, 1000000. 4, 8, 16, 24, 32. Start bit, stop bit, No Ack, address, restart, address and data.
Frequency, period, mean, peak-to-peak, RMS, minimum, mixmum, rising time, falling time, + width, - width, base, top, middle, amplitude, overshoot, preshoot, rising edge phase difference, falling edge phase difference, + duty, - duty, period mean, PRMS, FOVshoot, ROVshoot, BWIDTH, FRF, FFR, LRR, LRF, LFR, LFF. Hardware 6 bits frequency meter. Sine, square, ramp, Exp, noise, DC.
0.1 Hz to 10 MHz. 0.1 Hz or 4 bits, take the greater one. ±3.5 V, high impedance.
±1.75 V, 50 O. 100 µV or 3 bits, take the greater one. 800 (horizontal)480 (vertical) pixels. 16 million colours (24 bits true colour). Minimum, 1 s, 5 s, 10 s, 30 s, infinite. About 2Vpp input =1MO load. 100-120VACRMS(±10%), 45Hzto 440Hz, CAT? 120-240VACRMS(±10%), 45Hz to 66Hz, CAT?
T, 3.15A, 250V, 5x20mm. 40+71 °C (-40159.8 °F). (+41°C 50°C): =60% relative humidity. 3, 000m (10, 000 feet). 0.31 g RMS from 50Hz to 500Hz.
10 minutes on each axis. 2.46g RMS from 5Hz to 500Hz. 318 x 110 x 150mm (length x width x height). Communication is always the best way to solve problems. If you are satisfied with our products, we also hope you can give us a 5-star review.
I will be very grateful. 8MP 4K 30x Zoom PTZ 2-Way Audio SD Card Slot PoE IP Camera Hikvision Compatible. Zebra DS3608-SR00003VZCN Ultra Rugged Standard Range 2D Barcode Scanner w Cable.
Zebra DS3678-SR3U42A0SFC Standard Range Wireless 2D USB Barcode Scanner w Cradle. Dahua SD6C3425XB-HNR-A-PV1 4MP Starlight 25x Zoom Auto-tracking PTZ IP Camera.
Zebra RS5000-LCFLWR 1D/2D Wearable Ring Barcode Scanner for WT6000 WT41N0. Datalogic Quickscan QM2430-BK-433K1 Wireless Barcode Scanner Cradle & USB Cable. CORSAIR RM850 850W Fully Modular Power Supply 80 PLUS Gold Certified. Thermaltake TT Premium PCI-E 4.0 High Speed Flexible Extender Riser Cable 600mm. Datalogic Gryphon GFS4450 RS232 Desktop Fixed Mount 2D Barcode Scanner w Cable.
Zebra DS2208-SR00007ZZCN Wired 1D/2D Handheld Barcode Scanner Imager w USB Cable. Hikvision DS-7732NI-I4/24P 32 Channel 24PoE NVR 4 SATA 4K Network Video Recorder. KW818 Car Engine Fault Tester Diagnostic Code Reader Scanner w 2.8 Large Screen. CRYORIG QF120 Silent Computer Case Fan BalanceLED CR-QFLA White.
Datalogic QD2430-BKK1S QuickScan QD2430 Handheld 2D Barcode Scanner USB Kit. ZKTeco iClock300 TCP/IP USB Biometric Fingerprint Time Clock Attendance System.
Jimi JC450 4G Car Dash Cam DVR Recorder WiFi 3 Camera Live Video GPS Tracking. Dahua DH-PFA130-E Water-proof Junction Box For CCTV Turret Camera Bullet Camera. Honeywell 1950GHD-2USB Xenon 1950G 1D/2D Handheld Barcode Scanner w USB Cable. Honeywell Xenon 1902GHD-2USB-5 High-Density Barcode Scanner w USB Cable & Cradle. Dahua IPC-EBW81230 12MP Panoramic Fisheye Built-in Mic PoE IR Network IP Camera. This item is in the category "Business & Industrial\Test, Measurement & Inspection\Analyzers & Data Acquisition\Oscilloscopes & Vectorscopes". The seller is "llsecurity" and is located in this country: CN. This item can be shipped worldwide.
Models: DSO2D10 100MHZ
Brand: Hantek
Features: With USB
Maximum Bandwidth: 100 MHz, 150 MHz
Maximum Real-Time Sampling Rate: 1 GSa/s
Model: DSO2C10 / DSO2C15 / DSO2D10 / DSO2D15
Number of Channels: 2
Oscilloscope Type: Digital Oscilloscope