Hantek DSO2C10 Digital Oscilloscope 2CH 100MHZ Bandwidth Handheld Oscilloscope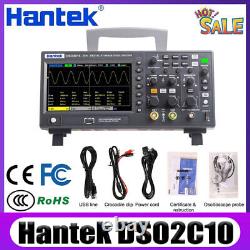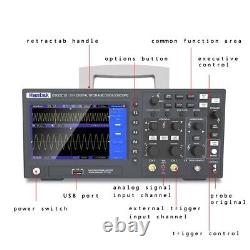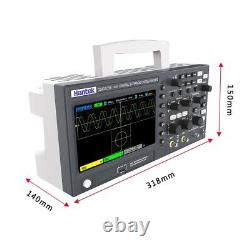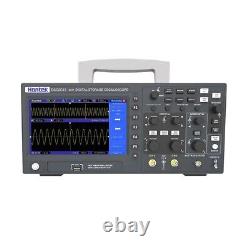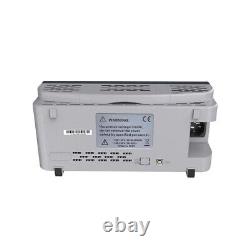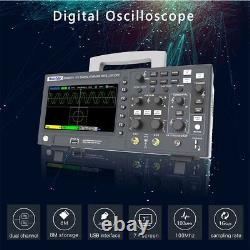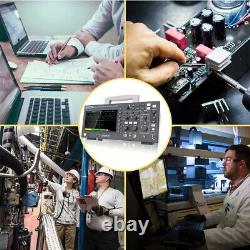 Hantek Digital Oscilloscope DSO2C10 2 Channels 100Mhz/150Mhz USB Storage Osciloscopio 1GSa/s Sample Rate. 1 2 channels, both are respectively controlled by independent knobes. 2 100 MHZ, 150MHZ analog channel bandwidth. 3 1 GSa/s real-time sample rate.
5 Vertical range 2mV/div 10V/div. 6 Built-in 1 CH 5MHz waveform generator. 8 Trigger: Edge, Pulse width, Video, Slope, Overtime, Window, Pattern, Interval, Delay, UART, LIN, CAN, SPI, IIC. 9 CAN decode and protocol analysis: RS232/UART? 10 Can save as multiple data formats, such as setting, waveform, referance waveform, CSV, picture.
11 5 bits digital voltage meter and 6 bits hardware frequency indicator function. 12 32 kinds of auto measurements with statistics, real-time statistics of maxmum, minimum, standrad deviation and etc.
13 2 sets of digital voltmeter. 14 Support threshold testing, free measurements within the screen. 15 Abundant SCPI remote command control. 16 Many external interface: USB Host/Device. 1 x Set of Oscilloscope.
If you want to pay via another ways, please let us know first. Thank you for the visit.
If there is any delay, it may be caused by bad weather or custom inspection which is not in our control, but don't worry, we will keep to follow your order until you receive it. We try our best to make you get desired products as soon as possible. If damaged, please refuse to sign and send us the message ASAP. If you need to change your address. Please make a note in your order or send me a message after you placed the order. Otherwise we will not be responsible for the wrong or undeliverable address. If there is any quality issue, please kindly provide pictures or video clearly to prove it. Thank you for your visiting. Working hours: Monday-Friday, 9:00-18:00. If you don't receive our reply, please kindly resend your message. Hantek HT25COP Signal Probe For Coil-on-Plug Ignition Waveform of Automobile.
3 in 1 Hantek 2D72/2D42/2C72/2C42 2CH Oscilloscope Multimeter Waveform Generator. Hantek 1008A/B/C+HT201 8CH Car Diagnostic DAQ Oscilloscope Oscillometer Generato. Hantek Digital DSO2000 Series 2CH 100Mhz/150Mhz Osciloscopio Multimeter Tester. Hantek 1008B 8 Channel Automotive Diagnostic Oscilloscope Programmable Generator.
Hantek6074BE I Hantek 4 CH Oscilloscope Automotive USB Oscilloscope 70MHz 1GSa/s. Hantek 6022BE 20Mhz Bandwidth 2 CH 48M PC Based USB Digital Storage Oscilloscope. Hantek DSO5072P Digital Storage Oscilloscope 70MHz Bandwidth 2 CH 1GSa/s USB. Hantek 6022BL USB PC Portable Oscilloscope Digital + Logic Analyzer 16CH 48MSa/s. Hantek 1008C USB 8CH 12 Bits Auto Digital Diagnostic DAQ Oscilloscope Generator.
Hantek 6022BE / 6022BL 2CH Portable Digital USB Oscilloscope Automotive Storage. Hantek DSO2C15 7 TFT Digital Storage Oscilloscope 150MHZ Bandwidth 2CH 1GSa/s. Hantek DSO2D15 7 TFT LCD Digital Oscilloscope 2CH+1CH 150MHz Bandwidth 1GSa/S. Hantek 6074BE &HT201 Attenuator 4CH 70MHz Portable Digital Storage Oscilloscopes. Hantek 2CH DSO5072P DSO5102P DSO5202P 70MHZ 100MHZ 200MHz Oscilloscope 1GSa/s. Hantek 1008A 8CH PC Digital Oscilloscope DAQ 8CH Generator 2.4MSa/s 12Bits ot16.
Hantek DSO2D10 Digital Storage Osciiloscope 2 Channels 100Mhz 1GSa/s Sample Rate.