Hantek DSO2C15 Digital Storage Oscilloscope 150MHZ Bandwidth Dual Channel 1GSa/s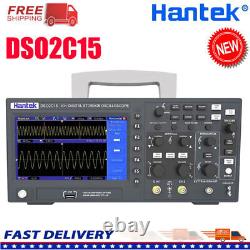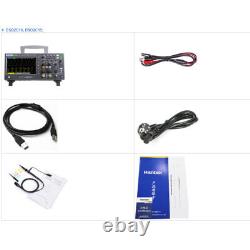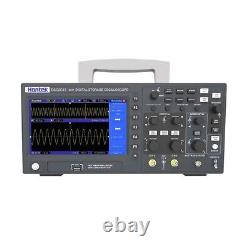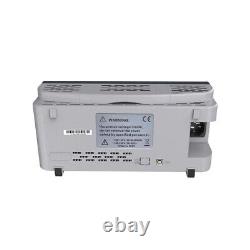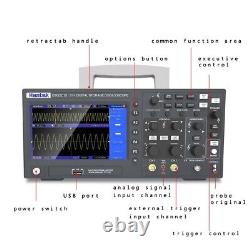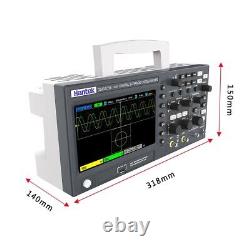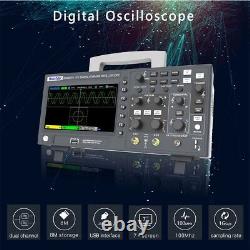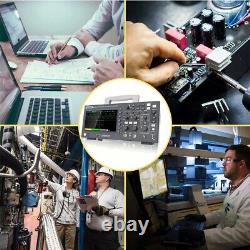 1 Dual Independently Controlled Channels. 2 Wide Signal Bandwidth: 150MHz.
3 Super High Sampling Rate: 1GSamples/s. 4 Deep Storage Memory: 8MSamples. 5 Vertical Range: 2mV/div 10V/div. 7 Built-in 25MHz Arbitrary Function Generator (On DSO2D10 & DSO2D15 Only). 8 Trigger Type: Edge, Pulse, Video, Slope, Overtime, Window, Pattern, Interval, Under Amp, UART, LIN, CAN, SPI, & IIC. 9 BUS Decoding and Protocol Analysis Functions: RS232/UART, I2C, SPI, CAN, LIN, etc. 10 Versatile Data Saving Functions in Multiple Formats: Settings, Signal and Reference Waveforms, CSV File for Data Values, Waveform Snap Shots, etc. 11 Build-in Dual Channel 3-Digit Voltage Meters and One 6-Digit Frequency Counter.
12 Automatic Measurements for 32 Types of Real-Time Statistic Parameters: Maximum, Minimum, Standard Deviation, etc. 13 Can Set Trigger Threshold and Measure Major Parameters Automatically. 14 Remotely Controllable Through SCPI (Standard Commands for Programable Instruments). 15 USB Host/Device for Transferring Data and Connecting to a USB Equipment.
2ns/div to 100s/div, in a 1, 2, 5 sequence. ± (1 sample interval + 100ppm × reading + 0.6ns).
± (1 sample interval + 100ppm × reading + 0.4ns). Sample interval = s/div ÷ 200.
8-bit resolution, each channel sampled simultaneously. 2mV/div to 10V/div at input BNC. Selectable Analog Bandwidth Limit (Typical). ±3% for Normal or Average acquisition mode, 10V/div to 10mV/div.
±4% for Normal or Average acquisition mode, 5mV/div to 2mV/div. +, -, ×, /, FFT. Window Function Types: Rectangle, Hanning, Hamming, Blackman, Bartlett and Flat Top.
Voltage Measurement Repeatability, Average Acquisition Mode. Under the same setting and environment, =16 waveforms are sampled, ? V of any two averages.
± (3% × value + 0.05 div). Note: Bandwidth reduced to 6MHz when using a 1X probe. 1GSa/s (single channel), 500MSa/s (dual channels).
Normal, Peak, Average & High Resolution. Up to 2000 waveform per second per channel (Normal acquisition mode, no measurement). Upon single acquisition on all channels simultaneously.
After N acquisitions on all channels simultaneously, N can be set to 4, 8, 16, 32, 64 or 128. Maximum 8M for single channel (4K, 40K, 400K, 4M, 8M optional). Maximum 4M for dual channels (4K, 40K, 400K, 4M optional). Edge, Pulse width, Video, Slope, Overtime, Window, Pattern, Interval, Delay, UART, LIN, CAN, SPI, lIC. ±5 divisions from the center of the screen. ±5 divisions from the center of screen. 0.2 div × volts/div within ±4 divisions from the center of the screen. ± (Set value × 6% + 40mV). Rising, Falling, Rising & Faling.
ScanLine, LinrNum, OddField, EvenField and AllField. 0: low level; 1: high level; X: ignore.
Start, Stop, Data, Parity Error, COM Error. 5 bit, 6 bit, 7 bit, 8 bit. Interval Field, Sync Field, Id field, Sync Id Error, Identifier, Id and Data.
Start Bit, Remote Frame, Data Frame Id, Frame Id, Data Frame Id A, Error Frame, All Error, Ack Error, Overload Frame. 10000, 20000, 33300, 500000, 62500, 83300, 100000, 125000, 250000, 500000, 800000,1000000.
4, 8, 16, 24, 32. Start Bit, Stop Bit, No Ack, Address, Restart, Address and Data. 20pF ± 3pF, 1MO ± 2%. PkPk, Frequency, Average, Max, Min, Period, Vtop, Vmid, Vbase, Vamp, RMS, R-Overshoot, PeriodRms, F-Preshoot, PeriodRms, PeriodAvg, RiseTime, FallTime, +Width, -Width, +Duty.
Duty, FRR, FFF, F-Overshoot, R-preshoot, BWidth, FRF, FFR, LRR, LRF, LFR and LFF. DC RMS, AC RMS, DC. +, -, x, /, FFT. Rectangle, Hanning, Hamming, Blackman, Bartlett, Flattop. Show only or show all.
9 types of files can be saved and recalled internally, including settings, waveforms, and references. CSV file, BMP picture (24 bit). Sine, Square, Ramp, Exponential, Noise, DC. 100µV or 3 bits, take the greater one. Support PC download and external memory recall. 50 O + 1%, high impedance. 7 inchs TFT (diagonal liquid crystal). 800 (horizontal) × 480 (vertical) pixels. 16 million colours (24 bits true colour).
Minimum, 1s, 5s, 10s, 30s, infinite. (±10%), 45Hz to 440Hz, CAT II.
(±10%), 45Hz to 66Hz, CAT. 0 to 50 °C (32 to 122 °F). 40 to +71 °C (-40 to 159.8 °F). = +104°F (= +40°C): =90% relative humidity.
106°F 122°F (+41°C 50°C): =60% relative humidity. 3,000m (10,000 feet). From 50Hz to 500Hz, 10 minutes on each axis. From 5Hz to 500Hz, 10 minutes on each axis.
318 × 110 × 150mm (L × W × H). It usually takes around 2 to 3 weeks to United Stated, United Kingdom, Australia, Canada and some European countries. But for other countries, it may need 4-6 weeks to deliver the parcel.
All items will be tested or checked carefully and packaged in good condition before sending out to you. Some faulty items might happen especially after overseas transportation. We promise we will provide prompt and satisfactory solution to you. Your 100 satisfaction is our greatest goal here. Sometimes it might get filtered as a spam or our office is closed for weekends and public holidays.
Hantek HT25COP Ignition waveform of automobile engine Coil-on-Plug Signal Probe. Auto Diagnostic Digital Oscilloscope Hantek 1008A 8CH DAQ Program Generator USB. Hantek 6022BE/6022BL Auto Oscilloscope 2CH Digital Storage 20MHz Logic Analyzer.
Hantek 1008A/B/C+HT201 8CH PC USB Automotive Diagnostic Digital Oscilloscope DAQ. Hantek DSO2D15 2 Channels 150Mhz Storage Digital Oscilloscope Multimeter Tester. Hantek 6074BE & HT201 Attenuator Digital Storage Oscilloscopes PC USB 4 CH 70MHz. Hantek DSO2C10 Digital Storage Oscilloscope 2 CH 100Mhz USB Multimeter Tester. Hantek DSO5202P Portable 7inch Digital Oscilloscope 200MHz 2 Channels USB 1GSa/s. Hantek 1008C 8CH Oscilloscope PC USB Automotive DAQ Program Generator Diagnostic. Hantek 6074BD Digital Oscilloscope Waveform Generator Bandwidth 70MHz 4 Channels. Hantek 6074BC PC USB 4 CH 1GSa/s 70Mhz Bandwidth Digital Storage Oscilloscope. Hantek DSO2D10 2CH 100MHz 1GSa/S Digital Oscilloscope + 1CH AWG Signal Generator. Hantek 6022BE Storage 2CH FFT PC Based Digital Oscilloscope USB2.0 48MSa/s 20MHz. Hantek DSO2000 Series Digital Oscilloscope 2CH+1CH 1GSa/s 100/150MHz 25MHz AWG. Hantek 2D72 2C72 2D42 2C42 Oscilloscope USB Waveform Generator Multimeter Tester. Hantek DSO5102P Digital Storage Oscilloscope Portable USB 2 CH 100MHz 1GSa/s 40K. Hantek DSO5072P DSO5102P DSO5202P 70MHZ 100MHZ 200MHz 2CH Digital Oscilloscope.
Hantek 6022BL PC USB Portable Oscilloscope 20MHz 48MSa/s + 16CHs Logic Analyzer. Hantek DSO5072P Digital Oscilloscope 2 CH 70MHz 1GSa/s 40K TFT Signal Waveform.
Hantek 1008B 8 CH USB Automotive Diagnostic Oscilloscope Programmable Generator. This item is in the category "Business & Industrial\Test, Measurement & Inspection\Analyzers & Data Acquisition\Oscilloscopes & Vectorscopes". The seller is "t-maxe" and is located in this country: CN. This item can be shipped worldwide.
Brand: Hantek
Country/Region of Manufacture: China
Digital Oscilloscope Resolution: 8-bit
Features: Handheld/ Portable, With Probe, With USB
Maximum Bandwidth: 150 MHz
Maximum Real-Time Sampling Rate: 1 GSa/s
Model: DSO2C15
Number of Channels: 2
Oscilloscope Type: Digital Storage Oscilloscope (DSO)