Hantek DSO5072P Digital Storage Oscilloscope 70MHz Bandwidth 2 CH 1GSa/s USB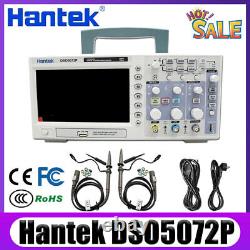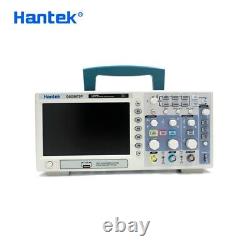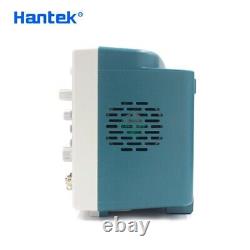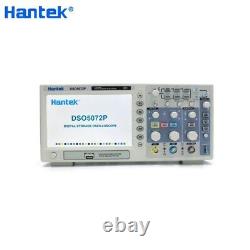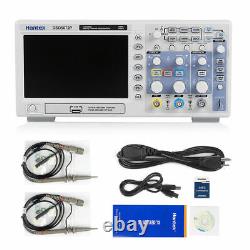 Digital Oscilloscope DSO5072P Hantek USB Oscilloscopes 2 Channels 70Mhz Bandwidth 1GSa/s Sample Rate. 1GSa/s Real Time sample rate. Large (7.0-inch) color display, WVGA(800x480). Record length up to 40K.
Trigger mode: edge/pulse width/line selectable video/slop/overtime etc. USB host and device connectivity, standard. Four math functions, including FFTs standard. Provides software for PC real-time analysis. 4nS/div-40S/div (in a 2, 4, 8 sequence).
8-bit resolution, each channel sampled simultaneously. ±50V(5V/div), ±40V(2V/div~500mV/div), ±2V(200mV/div~50mV/div)±400mV(20mV/div~2mV/div). ±4% for Sample or Average acquisition mode, 5mV/div to 2mV/div ±3% for Sample or Average acquisition mode, 5V/div to 10mV/div. Trigger Sensitivity (Edge Trigger Type).
DC: 1div from DC to 10MHz;1.5div from 10MHz to 100MHz; 2div from 100MHz to 200MHz; EXT: 200mV from DC to 40MHz EXT/5:1V from DC to 40MHz AC: Attenuates signals below 10Hz HF Reject: Attenuates signals above 80kHz LF Reject: Attenuates signals below 150kHz Noise Reject: Reduces trigger sensitivity. CH1, CH2: ±8 divisions from center of screen EXT: ±1.2V EXT/5: ±6V.
Trigger Level Accuracy, typical (Accuracy is for signals having rise and fall times =20ns). CH1, CH2: ±(0.3div×V/div) (within ±4 divisions from center of screen). EXT: ±(6% of setting + 40mV) EXT/5: ±(6% of setting + 200mV).
Trigger on the rising or falling edge. Trigger on an NTSC, PAL, or SECAM standard video signal Line Range: 1-525 (NTSC), 1-625 (PAL/SECAM). From the rising or falling edge Set Time: 20-10s. Internal trigger on edge, pulse width, video or slope. Manual: The difference between voltage cursors?
V; the difference between time cursors? Tracing: The voltage and time at a waveform point. Frequency, Period, Mean, Pk-Pk, Cycli RMS, Minimum, Maximum, Rise time, Fall Time, +Pulse Width, -Pulse Width, Delay1-2Rise, Delay1-2Fall, +Duty, -Duty, Vbase, Vtop, Vmid, Vamp, Overshoot, Preshoot, Preiod Mean, Preiod RMS, FOVShoot, RPREShoot, BWIDTH?
Right angle 7TFT 16-digit color LCD. 16 gears, with the progress bar to show adjustment. USB host and USB slave. 100-120VACRMS(±10%), 45Hz to 440Hz, CAT? 120-240VACRMS(±10%), 45Hz to 66Hz, CAT?
Length: 313mm Width: 108mm Height: 142mm. 2.08KG exclusive of packing and accessories. 1 x DSO5072P Oscilloscope Host.
If you want to pay via another ways, please let us know first. Thank you for the visit.
If there is any delay, it may be caused by bad weather or custom inspection which is not in our control, but don't worry, we will keep to follow your order until you receive it. We try our best to make you get desired products as soon as possible.
If damaged, please refuse to sign and send us the message ASAP. If you need to change your address. Please make a note in your order or send me a message after you placed the order. Otherwise we will not be responsible for the wrong or undeliverable address. If there is any quality issue, please kindly provide pictures or video clearly to prove it.
Thank you for your visiting. Working hours: Monday-Friday, 9:00-18:00. If you don't receive our reply, please kindly resend your message. Hantek HT25COP Signal Probe For Coil-on-Plug Ignition Waveform of Automobile. Hantek 1008A/B/C+HT201 8CH Car Diagnostic DAQ Oscilloscope Oscillometer Generato.
Hantek 6022BL USB PC Portable Oscilloscope Digital + Logic Analyzer 16CH 48MSa/s. Hantek6074BE I Hantek 4 CH Oscilloscope Automotive USB Oscilloscope 70MHz 1GSa/s. Hantek 1008C USB 8CH 12 Bits Auto Digital Diagnostic DAQ Oscilloscope Generator.
Hantek 1008B 8 Channel Automotive Diagnostic Oscilloscope Programmable Generator. Hantek Digital DSO2000 Series 2CH 100Mhz/150Mhz Osciloscopio Multimeter Tester. Hantek 6022BE 20Mhz Bandwidth 2 CH 48M PC Based USB Digital Storage Oscilloscope. Hantek DSO2C15 7 TFT Digital Storage Oscilloscope 150MHZ Bandwidth 2CH 1GSa/s.
Hantek DSO5202P Digital Oscilloscope 200MHz Bandwidth 2 CH PC USB LCD Portable. Hantek 1008A 8CH PC Digital Oscilloscope DAQ 8CH Generator 2.4MSa/s 12Bits ot16. 3 in 1 Hantek 2D72/2D42/2C72/2C42 2CH Oscilloscope Multimeter Waveform Generator.
Hantek DSO2C10 Digital Oscilloscope 2CH 100MHZ Bandwidth Handheld Oscilloscope. Hantek 6022BE / 6022BL 2CH Portable Digital USB Oscilloscope Automotive Storage. Hantek DSO2D10 Digital Storage Osciiloscope 2 Channels 100Mhz 1GSa/s Sample Rate.
Hantek DSO5102P Digital Storage Oscilloscope 100MHz 2CH 1GSa/s USB Host Device. Hantek 2CH DSO5072P DSO5102P DSO5202P 70MHZ 100MHZ 200MHz Oscilloscope 1GSa/s. Hantek DSO2D15 7 TFT LCD Digital Oscilloscope 2CH+1CH 150MHz Bandwidth 1GSa/S. Hantek 6074BE &HT201 Attenuator 4CH 70MHz Portable Digital Storage Oscilloscopes. This item is in the category "Business & Industrial\Test, Measurement & Inspection\Analyzers & Data Acquisition\Oscilloscopes & Vectorscopes". The seller is "lerdge7080" and is located in this country: CN. This item can be shipped worldwide.
Brand: Hantek
Country/Region of Manufacture: China
Digital Oscilloscope Resolution: 8-bit
Features: Handheld/ Portable, With Probe, With USB
Interface: USB host and USB slave
Maximum Bandwidth: 70MHz
Maximum Real-Time Sampling Rate: 1GSa/s
Model: DSO5072P
Number of Channels: 2
Oscilloscope Type: Digital Oscilloscope
Power: 30w
Record Length: 24K