Hantek DSO5202P 200MHz Digital Storage Oscilloscope 2Channels 1GSa/s AC110-240V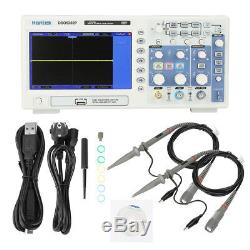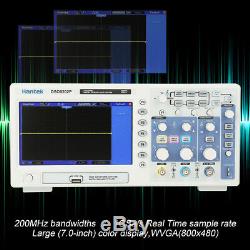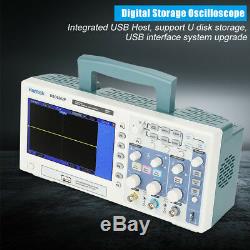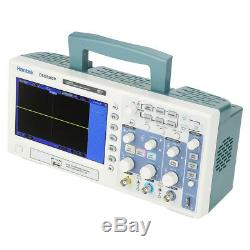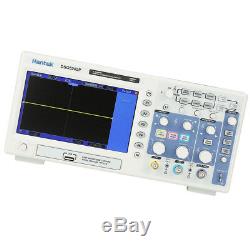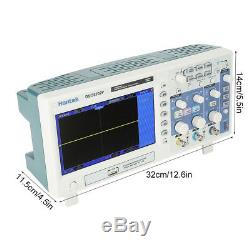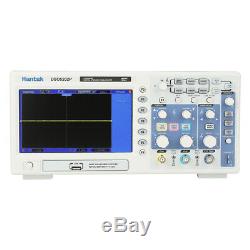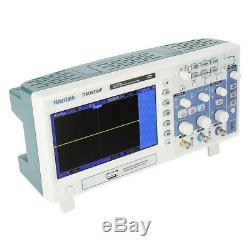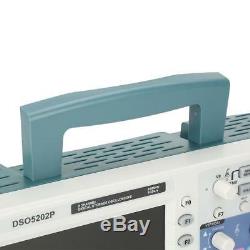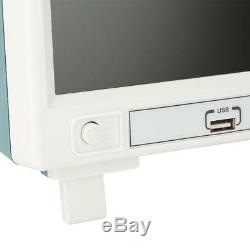 Hantek DSO5202P Digital Storage Oscilloscope 2CH 200MHz 1GSa/s 7 TFT AC110-240V. With bandwidth of 200MHz and real-time sampling rate of 1GSa/s, more than 1000 waveforms and other information can be stored.
Large and clear screen (7.0-inch LCD, 800x480 resolution), humanized operation interface, Powerful trigger function. Integrated USB Host, support U disk storage, USB interface system upgrade. The 7-inch 64K TFT real color LCD display is clear and lifelike. Ultra-thin design, compact size, easy to carry. High-frequency and randon glith capture. Wavefom Average, selectable 4,8,16,32,64,128. CAT I and CAT II: 300VRMS (10x), Installation Category.
Installation Category II: derate at 20dB/decade above 100kHz to 13V peak AC at 3MHz and above. For non-sinusoidal waveforms, peak value must be less than 450V.
Excursion above 300V should be of less than 100ms duration. RMS signal level including all DC components removed through AC coupling must be limited to 300V. If these values are exceeded, damage to the oscilloscope may occur. ±50ppm(at over any 1ms time interval). 2ns/div to 10ns/div; (-4div x s/div) to 20ms. Single-shot, Normal mode:± (1 sample interval +100ppm x reading + 0.6ns). >16 averages:± (1 sample interval + 100ppm x reading + 0.4ns). Sample interval = (s/div) /200.
8-bit resolution, all channel sampled simultaneously. Rise Time at BNC(typical). Analog Bandwidth in Normal and Average modes at BNC or with probe, DC Coupled. 2mV/div to 20mV/div, ±400mV; 50mV/div to 200mV/div, ±2V. 500mV/div to 2V/div, ±40V; 5V/div, ±50V.
+, -, x, /, FFT. Windows: Hanning, Flatop, Rectamgular, Bartlett, Blackman.
±3% for Normal or Average acquisition mode, 5V/div to 10mV/div. ±4% for Normal or Average acquisition mode, 5mV/div to 2mV/div.
When vertical displacement is zero, and N 16:± (3% x reading + 0.1div + 1mV) only 10mV/div or greater is selected. When vertical displacement is not zero, and N16: ± 3% x (reading + vertical position) + 1% of vertical position + 0.2div; Add 2mV for settings from 2mV/div to 200mV/div; add 50mV for settings from 200mV/div to 5V/div.
Delta volts between any two averages of 16 waveforms acquired under same setup and ambient conditions. Edge, Video, Pulse, Slope, Over time, Alternative. CH1, CH2, EXT, EXT/5, AC Line. DC, AC, Noise Reject, HF Reject, LF Reject. 1div from DC to 10MHz; 1.5div from 10MHz to 100MHz; 2div from 100MHz to Full.
200mV from DC to 100MHz; 350mV from 100MHz to 200MHz. 1V from DC to 100MHz;1.75V from 100MHz to 200MHz. AC: Attenuates signals below 10Hz. HF Reject: Attenuates signals above 80kHz.
LF Reject: Same as the DC-coupled limits for frequencies above 150kHz; attenuates signals below 150kHz. CH1/CH2: ±8 divisions from center of screen.
Trigger Level Accuracy(typical)Accuracy is for signals having rise and fall times 20ns. CH1/CH2: 0.2div x volts/div within ±4 divisions from center of screen. EXT: ± (6% of setting + 40mV).
EXT/5: ± (6% of setting + 200mV). Set Level to 50%(typical). Operates with input signals 50Hz. CH1, CH2: Peak-to-peak amplitude of 2 divisions.
Signal Formats and Field Rates, Video Trigger Type. Supports NTSC, PAL and SECAM broadcast systems for any field or any line. = , or not=; Positive pulse or Negative pulse. Equal: The oscilloscope triggers when the trailing edge of the pulse crosses the trigger level.
Not Equal: If the pulse is narrower than the specified width, the trigger point is the trailing edge. Otherwise, the oscilloscope triggers when a pulse continues longer than the time specified as the Pulse Width. Less than: The trigger point is the trailing edge. 321411.5cm/12.65.54.5in.
Note: Please kindly make a note if you need any adapter. Our listing price includes the value of goods, packaging cost, and export. Please check with your country's. We will reply your message within 48 hours.
If you do not receive our reply within 48 hours, pls. Post a message again because sometimes our message system may block some emails. If you are satisfied with our service, pls. Our aim is to provide Top Level Customer Service, your recognition will encourage us greatly and serve you better. We strive to keep all our customers satisfy. We will always do our up most to exceed your expectations in customer service, communication and dispatching of your orders. The item "Hantek DSO5202P 200MHz Digital Storage Oscilloscope 2Channels 1GSa/s AC110-240V" is in sale since Tuesday, April 16, 2019.
This item is in the category "Industrial\Test, Measurement & Inspection\Analysers & Data Acquisition\Oscilloscopes & Vectorscopes". The seller is "industry_mall" and is located in Shenzhen. This item can be shipped worldwide.
Bandwidth: 200MHz
Brand: Hantek
Model: DSO5202P
MPN: Does Not Apply
Plug: EU plug
Sample Rate: 1GS/s
Size: 32*14*11.5cm/12.6*5.5*4.5in
Voltage: 110-240V