Keysight DSOX1102A InfiniiVision 1000 X-Series Digital Storage Oscilloscope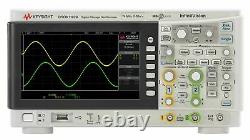 Keysight - DSOX1102A - InfiniiVision 1000 X-Series Digital Storage Oscilloscope. DSOX1102A - InfiniiVision 1000 X-Series Digital Storage Oscilloscope, 70 MHz, 2Ch. With the merger of Microlease and Electro Rent's business operations, we are proud to be the largest, most comprehensive test equipment services provider for market-leading customers around the world.
As a result, we have become experts in Test Equipment management and have evolved into a global organisation with offices across Europe, the US, and Asia, supplying T&M equipment to all the major names in the industry. We have also built strong relationships with all the major Test Equipment manufacturers to offer equipment in innovative ways. SAVE UP TO 87% with Our 23-Step Certified Pre-Owned Test Equipment! Used Test and Measurement (T&M) Equipment is an excellent way to reduce the cost of acquiring equipment.
And now you have a great new choice - Microlease Certified Pre-Owned! This equipment may be listed for sale/rent elsewhere hence cannot guarantee availability however will endeavour to source a suitable alternative if required. Any queries about accessories with the item, we will provide information upon request.
Please bear in mind that the description of each item only displays options for the unit, the options may differ from what you actually receive. All orders are subject to acceptance by Microlease. Orders are governed by the applicable trade term specified on the quotation or agreed to by Microlease as defined in Incoterms 2010. Microlease may discontinue performance if Customer fails to pay any sum due, or fails to perform under this or any other Microlease agreement if, after ten (10) days written notice, the failure has not been cured. Microlease will withdraw in case of failing security screening. Microlease grants Customer a worldwide, non-exclusive, license to use Software for internal purposes in accordance with documentation provided with the Software. Microlease license terms or third party license terms included with such documentation will take precedence over these license terms. If the documentation does not include license terms, Microlease grants Customer a license to use one copy of the Software on one machine or instrument, or a license as otherwise stated on the quotation. Except as authorized by Microlease in writing or as permitted by law, Customer will not reverse engineer, reverse compile, or reverse assemble Software, modify or translate Software, or copy Software onto any public or distributed network. Microlease warrants the Microlease hardware Product against defects in materials and workmanship and that the Product will conform to Specifications. Microlease warrants that Microlease owned standard Software substantially conforms to Specifications. Microlease will defend or settle any claim against Customer that a Product infringes an intellectual property right, provided Customer promptly notifies Microlease in writing and provides control of the defense or settlement, and assistance, to Microlease. In defending or settling an infringement claim under Section 4(a), Microlease will pay infringement claim defense costs, settlement amounts and court-awarded damages. If such a claim appears likely, Microlease may, at its option, modify or replace the Product or procure any necessary license. Microlease has no obligation for any claim of infringement arising from: Microleases compliance with, or use of, Customers designs, specifications, instructions or technical information; Product modifications by Customer or a third party; Product use prohibited by or outside the scope of Specifications or related application notes; or use of the Product with products not supplied by Microlease. Limitation of Liability and Remedies. This exclusion shall apply even if any remedy set forth in these Terms fails its essential purpose. The limitations set forth in Section 5(a) above will not apply to infringement claims under Section 4, or to damages for bodily injury or death. The remedies in these Terms are Customers sole and exclusive remedies. Microlease will indemnify and hold Customer harmless from and against any third party claims for (i) bodily injury or death, or (ii) direct damage to tangible property, to the extent caused by Microleases negligence or willful misconduct in performing its obligations under these Terms, provided that Microlease is given prompt written notice and the opportunity to control the defense of the claim or settlement, and subject to the limitation of liabilities set forth in Section 5. Microlease will not sell, rent or lease Customers personal data to others. The parties agree to comply with applicable laws and regulations. Microlease may suspend performance if Customer is in violation of applicable laws or regulations. Customer shall not sell or transfer Products, technology or technical data to any entity designated or identified by the U. Government as a restricted person or included on any U. Government-maintained restricted person list, including, but not limited to, (i) the Specially Designated Nationals and Blocked Persons List, (ii) the Foreign Sanctions Evaders List, (iii) the Sectoral Sanctions Identification List, (iv) the Entity List, (v) the Denied Persons List, and (vi) the Unverified List (collectively,'US Restricted Lists').
A party is excused from and not liable for performance of its obligations under these Terms for any occurrence beyond its reasonable control and without its fault or negligence including, but not limited to, acts of God (such as fires, floods, storms, earthquakes, hurricanes or other natural disasters), acts of the public enemy (such as civil war, rebellion, revolution or terrorist activities), regulations, acts or restraints of a government in either its sovereign or contractual capacity, epidemics, quarantine restrictions, strikes, lockouts, interruption or failure of utilities, or acts or omissions of common carriers. Use, distribution or disclosure of Products by the U. Disputes arising in connection with these Terms will be governed by the laws of the State of California. To the extent that any provision or a portion of any provision of these Terms is determined to be illegal or unenforceable, the remainder of these Terms will remain in full force and effect. The United Nations Convention on Contracts for the International Sale of Goods will not apply to these Terms.
Products are not specifically designed, manufactured or intended for sale as parts, components or assemblies for the planning, construction, maintenance or direct operation of a nuclear facility. Microlease shall not be liable for any damages resulting from such use. Customers additional or different terms and conditions will not apply.
In addition, Customer agrees to protect the integrity of Microleases products and brand in the event of damage or inoperability of any Microlease Remarketed Products. Customer must dispose of such products in compliance with local laws and regulations and will not permit its employees or agents to retain ownership of such products without Microleases prior written consent. Customer will indemnify and hold Microlease harmless from all loss, damage, expense or liability arising from Customers breach of the obligations set forth above. Tektronix - TDS3052B - 2 Channel 500MHz 5GS/S Digital Phosphor Scope. Tektronix - MSO54 Mixed Signal Oscilloscope FlexChannels w/ 62.5M record length.
Keysight Technologies - DSOXDVM - Integrated digital voltmeter. GW Instek - GDS-3354 - 350MHz, 4 CH, Visual Persistence DSO.
This listing is currently undergoing maintenance, we apologise for any inconvenience caused. The item "Keysight DSOX1102A InfiniiVision 1000 X-Series Digital Storage Oscilloscope" is in sale since Thursday, February 11, 2021. This item is in the category "Business, Office & Industrial\Test, Measurement & Inspection\Analysers & Data Acquisition\Oscilloscopes & Vectorscopes". The seller is "electro_rent_europe" and is located in UK.
This item can be shipped worldwide.
Brand: Keysight Technologies
MPN: DSOX1102A