Owon HDS1021M Handheld Digital Storage Oscilloscope Multimeter Tester HD Screen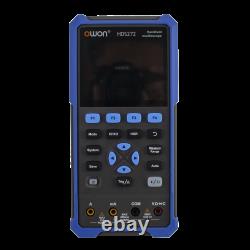 Note: If the computer does not automatically install the software successfully, please install the software manually according to the PDF file in the manual. Oscilloscope + multimeter + waveform generator, multifunction in one? 3.5-inch high-resolution, high-contrast color LCD display, suitable for outdoor use? 18650 lithium battery, comprehensive power consumption=3W, can work continuously for about 6 hours?
USB Type-C interface, support power bank, support PC software connection? SCPI supported, facilitate secondary development Package includes: 1 x Main device 1 x Bag 1 x Probe 1 x Power Plug(EU type) 1 x Probe Adjust 1 x USB Cable 2 x Multimeter Leads 1 x Instructions 1 x CD Rom 1 x BNC to Alligator Clip. 1 MO+2%, in parallel with 1 6pF+10pF. 1X, 10X, 100X, 1000X, 10000X. 400V (DC+AC, PK PK, 1MO input impedance). 5ns/div - 1000s/div, step by 1-2- 5. Frequency, Period, Amplitude, Max, Min, Mean, PK-PK. Voltage, Current, Resistance, Capacitance, Diode, and Continuity test. (Only for HDS242S & HDS272S & HDS2102S).