UNI-T UTD2102CEX 100MHZ Digital Storage Oscilloscope 1G Sa/s USB many languages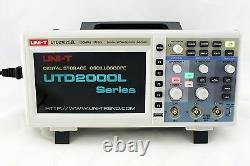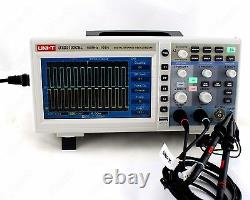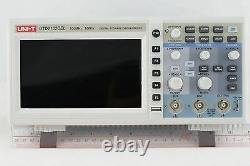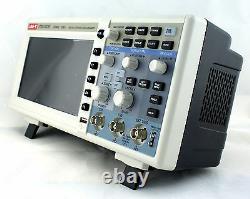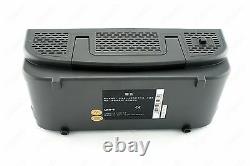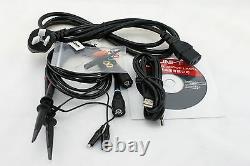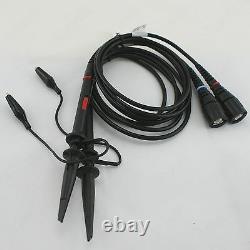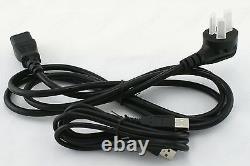 Uni-T Wide Screen OSCILLOSCOPE 100MHz UTD2102CEX 1GSa/s. This item has been upgraded, the new model is.
To USA, UK, Canada, Australia. New Zealand, Ireland, Austria, Belgium, Denmark, Germany, France, Finland, Luxemburg, Malta. Sweden, Swiss, Spain, Italy, Japan, Korea, Thailand, Malaysia, Indonesia, Philippine, Singapore.
Clients from other countries please contact with us in advance to confirm the different. Please follow these steps to change the language. Power on -- Press the "UTILITY" button -- Select the "F4" to change the language you want. The volume exquisite and it is convenient for carrying. Used Colored TFT LCD, the waveform display is clearer and stable.
The real time sampling rate is 1GSas. Memory depth of UTD2102CEL is 2 512Kpts.
Trigger Models Edge, Pulse, Video, Slope, Alternative and Delay trigger modes. Unique Digital Filter function and Waveform recorder function. Thirty two parameters Auto measure function. Cursor measure covers Manual mode, Track mode and Auto mode. Channel waveform and its FFT waveform display on split screen. Pop-up Menu display pattern is more convenient for users using it. Support multilingual online help system.
UTD2102CEX series products have rich trigger modes Edge, Pulse, Video, Slope, Alternative and delay trigger mode, which satisfy with users more extensive needs. Alternative trigger mode is usually used to observing two non-correlated signals at the same time and users can select different trigger mode for two channels, which is a kind reproduction that analog oscilloscope function in the digital oscilloscope. FFT wave form and its Channel waveform can display on split screen at the same time.
In split display mode, the screen is divided eight divides in vertical direction. That is similar to under the entire screen pattern simultaneously to observe two waveforms.
This way will make users observe waveforms to be clearer and convenient. Multi-country Language User Interface Display Function. UTD2102CEX series product has 11 languages user interface display function Simplified Chinese, Traditional Chinese, English, Arabic, French, German, Russian, Spanish, Portuguese, Japanese and Korean, which has further developed the UTD2102CEL series product international market and has laid the foundation for UTD2102CEL series making for the international well-know brand products. UTD2102CEX series can auto measure thirty two parameters, which is most in the same level digital oscilloscopes. Auto measure function can eliminate user error consumedly, and more accurately using it.
UTD2102CEL series also have all measurement function that displays all the waveform parameters on the screen according to measure kinds, and users can ready measure parameters value expediently. So UTD2102CEL series are your most perfect measure tools in current market. UTD2102CEX series cursor survey function has three kind modes Auto manual mode, Track mode, Auto mode.
The user may according to own need to choose the survey pattern nimbly, thus with ease read measure results from the top right of the screen or experience completely automatic intelligent design pattern. UTD2102CEX series provide a digital filter function and users can use it setting upper limit and lower limit of frequency to reduce signal noise and filter error signal.
So they can observe their interested signal, which will advance users work efficiency consumedly. Using this function, users can continue record data of their need signals as the form of frame. Waveform recorder can record input waveform from CH1 and CH2, with maximum record. 10 groups wave and 10 kinds setting. UTD2102CEX series products use the 7 RGB colored TFT LCD.
The screen display parameter value and the waveform are clearer, stably and nature; that is also more advantageous to alleviate tiredness of users using the instrument extended periods at a time. Real time 1GS/s, Equivalent: 50GS/s. Edge, Pulse, Video and Alternate.
Standard: USB Device, USB Host; PASS/FAIL, Optional: LAN. Add, Subtract, Multiply, Divide, FFT. College Education, R&D, Electronic product assemble line, Industrial Control etc. 64k, Full colour LCD, 320 x 240.
100 - 240VACRMS, 45Hz - 440Hz, CAT II. Diagonal 145mm (5.7 inches). 320mm x 150mm x 130mm. Probe x 2 (1x, 10x switchable), Power Cord and English Manual. 445 x 410 x 270mm (0.055 CBM Per Export Carton).
2 units of 100MHz X1 X10 probes up to 1600V. Please make sure you have. Buyers are responsible for these charges. New and in its original and unused condition. A clear picture of your received item.
Return must be sent via. The item "UNI-T UTD2102CEX 100MHZ Digital Storage Oscilloscope 1G Sa/s USB many languages" is in sale since Wednesday, May 15, 2019. This item is in the category "Business & Industrial\Test, Measurement & Inspection\Analyzers & Data Acquisition\Oscilloscopes & Vectorscopes".
The seller is "woderful" and is located in shenzhen. This item can be shipped worldwide.
Model: UTD2102CEX
Bandwidth: 100MHz - 349MHz
Type: Digital
MPN: Does Not Apply
Channels: 2
Sample Rate: 1GSa/s - 1.9GSa/s
Brand: UNI-T