UNI-T UTD2102CEX+ Digital Storage Oscilloscopes 2CH 100MHZ Scope meter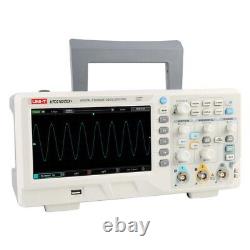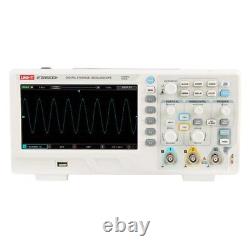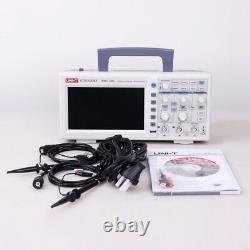 UTD2000CEX+ Series is an economical desktop digital storage oscilloscope to meet the key requirements of basic measurement, simple and clear front panel design, more convenient for users to operate. Utd2000CEX+configuration of 100- 200MHz level bandwidth, real-time sampling rate of 1Gs/s, dual channels, storage depth of 64 kpts. 2 channels, low noise floor, wide vertical range: 1mV/div20V/div. System software upgrade via USB drive. Supports plug-and-play USB storage device; communication with and remote control of computer through the USB device. =±(50+2 × service life)ppm. Edge, pulse width, alternate, Slope, video. +, -, ×, ÷, FFT. Pk-Pk, Ampl, Max, Min, Low, Middle, High, Mean, RMS, OverSht,, PreSht, Period, Frequency? Rise, Fall, +Width, -Width, -Duty, +Duty, Delay, Phase, FRR, FRF, FFR, FFF, LRR, LRF, LFR, LFF, 34 paramet ers in total.
Display 5 measurements at the same time. 7 inches TFT LCD, 800×480. 450mm x 420mm x 280mm.
UT-P04:Passive Probe x 2 (1x, 10x switchable, 100MHz). UT-P05:Passive Probe x 2 (1x, 10x switchable, 200MHz). User manual and Communications control software(Electronic file).